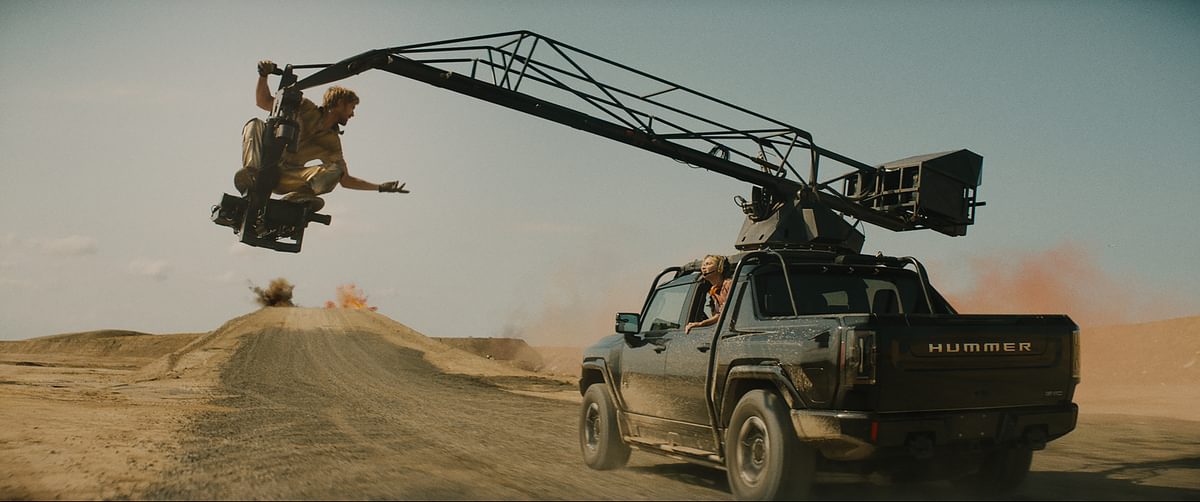 TheFallGuyMovie only in theaters March 1
"In 'The Fall Guy', step into the adrenaline-fueled world of Colt Seavers, a stuntman extraordinaire who leaps back into action after a near-career-ending accident. Tasked with finding a missing movie star amidst a web of conspiracy, Colt embarks on a heart-pounding adventure that pushes him to the brink. Directed by real-life stuntman David Leitch, this action-packed thriller stars Oscar® nominee Ryan Gosling, alongside Golden Globe winner Emily Blunt, and features mind-blowing stunts, intense mystery, and a love letter to the unsung heroes behind the scenes of Hollywood. Buckle up for a rollercoaster ride that takes you to the edge of danger and beyond!"
"Get ready for heart-stopping action and hilarious thrills in 'The Fall Guy,' the latest masterpiece from renowned stuntman and director David Leitch. Dive into the high-octane world of Colt Seavers, a seasoned stuntman portrayed by Oscar® nominee Ryan Gosling. After a year-long hiatus to focus on his well-being, Colt is thrust back into the spotlight when a movie star mysteriously vanishes from the set of a mega-budget studio film, helmed by his ex, the talented director Jody Moreno, played by Golden Globe winner Emily Blunt.
As Colt navigates a maze of jaw-dropping stunts and attempts to win back Jody's affection, he finds himself entangled in a web of deception orchestrated by the film's ruthless producer, portrayed by Emmy winner Hannah Waddingham. With every outrageous stunt, Colt inches closer to the truth, discovering a sinister criminal plot that pushes him to the edge, challenging his skills and courage like never before.
Inspired by the iconic 1980s TV series, 'The Fall Guy' boasts an all-star cast including Golden Globe winner Aaron Taylor-Johnson, Winston Duke from the Black Panther franchise, and Academy Award® nominee Stephanie Hsu. From the mind of screenwriter Drew Pearce (Hobbs & Shaw), this film is a tribute to the unsung heroes behind the scenes of Hollywood, an action-packed spectacle filled with humor, heart, and adrenaline.
Produced by industry powerhouses Kelly McCormick and David Leitch through 87North, along with Ryan Gosling and Guymon Casady of Entertainment 360, and executive produced by Drew Pearce, Geoff Shaevitz, and original 'Fall Guy' creator Glen A. Larson, this movie promises an unforgettable cinematic experience. Brace yourselves for a wild ride into the heart of Hollywood's most daring and dangerous moments, where the line between reality and spectacle blurs, and every stunt could be Colt Seavers' last."
Genre: Action Thriller
Starring: Ryan Gosling, Emily Blunt, Winston Duke, Aaron Taylor-Johnson, Hannah Waddingham, Stephanie Hsu
Directed by: David Leitch
Screenplay by: Drew Pearce
Produced by: Kelly McCormick, David Leitch, Ryan Gosling, Guymon Casady
Executive Producers: Drew Pearce, Geoff Shaevitz, Glen A. Larson